Economic Treason
George Bush
Time Magazine Person of the Year......for reframing reality to match his design,"
"They never stop thinking of new ways to harm our people, and neither do we." George Bush
"See, in my line of work you got to keep repeating things over and over and over again for the truth to sink in, to kind of catapult the propaganda." George Bush on Social Security
Working as hard as he can to build the economy's of India, China and Mexico
While He Destroys Ours
RICO Laws Becoming The Last Resort Of American Workers
The goal is the dissolution of the United States as a Nation
FTAA - Free Trade of the Americas
United States of America Pan America

Coincidently September 11, 2001 the 'Inter-American Democratic Charter' is adopted
A Magna Carta For The Americas
Summit of the Americas Pushes Revolutionary Agenda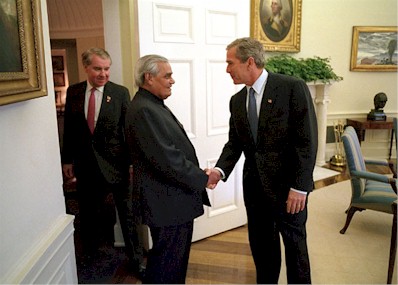 Bush with Vajpayee of India
Trading Away Knowledge Jobs Including Defense, Nanotechnology, Information Technology, Biotechnology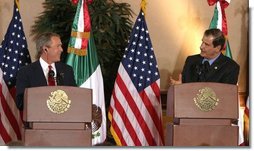 Bush with Vincente Fox
Discussing amnesty and benefits for illegals
who have invaded our country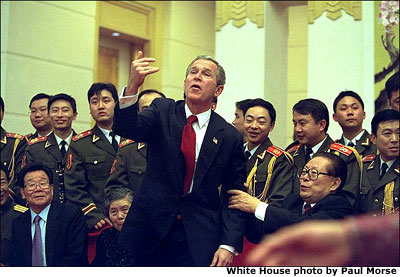 Bush trading away American manufacturing
Curiously, Bush is very big on free trade with the Communist Chinese but apparently he doesn't like to be photographed with them.
This was the only picture I found of Bush with
Chinese President Jiang Zemin