Conceptual Design - Congressional Record, Marc Tucker, NCEE to Hillary Clinton
Managed Workforce for a Planned Economy
National America's Job, Talent, Information System
Idaho Student Information System
Click on Hotspots on Diagram
SYLLABICATION man·age·ment
To Control
Give me four years to teach the children and the seed I have sown will never be uprooted ~ Vladimir Lenin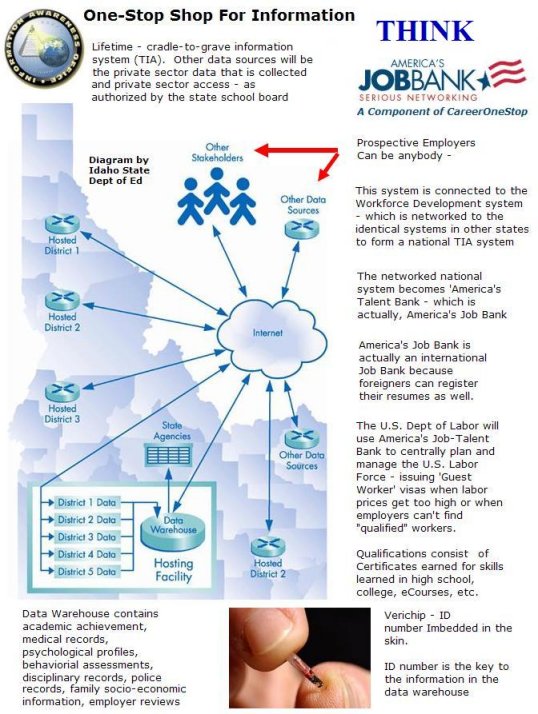 First the 'Smart ID' with the RFID chips, then the Verichip - one step at a time towards totalitarian control
The Guest Worker program is the capstone piece - requiring EVERYBODY to have newly issued government ID - "Real ID".
<![if !vml]>
<![endif]>Networked
Local School
School District
State Workforce Development System
National America's Job, Talent, Information System Cradle-to-Grave TIA

Chronology of legislation leading to TIA in the Schools


Student Information Systems - Data Dictionaries

Department of Education - Master Data Dictionary
Idaho Dept. of Education Data Dictionary - subset of Master Data Dictionary Data Element Lookup
Teachers Assessments - Lifetime Impact
Note: Since I produced this page, the information about America's Job Bank and the One-Stop Shop - link between education and the workforce is slowing being pulled off the internet or buried. Fortunately, I was able to capture the webpages of Americas job bank just as it was being buried behind the facade of websites that appear to be privately held. The webpages in transition were captured in this PDF.
Constructing the "Demand Driven Workforce" (ie. stable of slaves)
Teacher As Data Collector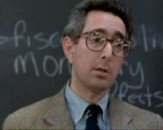 Wisconsin's Child Mental Health Plan
Teen Screen - Diagnostic Predictive Scales (note the medical history questions - this information goes into the SIMS databases and can effect a child's ENTIRE life.)
Columbia University Teen Screen Questionnaire
Pharmaceutical Industry spent almost $1 BILLION lobbying in 8 years
Idaho Eagle Forum - Legislative Alerts on SIMS & Medicaid restructuring
Cumberland County Board of ED. (They get a fee for filing Medicaid claims - incentive for facilitating 'services') "The NCSBA will process Medicaid billing and handle the collection of school-based, health-related services."
Soviet Poly-Technical Education
Electronic Resume
America's Talent Bank
Constructing the "Demand Driven Workforce" (ie. stable of slaves)
Worker Skills & Job Requirements
IT Committees & Working Groups
Includes Geospatial

Regional "Competitiveness" Authorities - For The Planned Economy
NCEE - Latest Report on "education reform": Tough Choices or Tough Times calls for creating regional competitiveness authorities. The regional authority would be responsible to coordinate and plan the educational programs for children to correspond with the economic development of the communities within the region. Noteworthy clarification on these authorities (Pg 19-20, Step 10):
"We settled on the word "authorities" to describe these new bodies because we wanted to convey the idea that they need to be more than debating societies. They need to be able to raise and spend money needed to develop their regions over time. If these new bodies are as successful as we think they will be, the federal government should consider lifting many of the restrictions on the separate programs they will administer and permitting them to combine the funds from these programs in ways that are more likely to lead to both strong economic growth and strong job growth, especially for the most vulnerable people in the country."
Lynn Stuter (commenting on the "reform" and the NCEE report):
A planned economy in which schools produce workers according to regional economic development strategies and regional labor market needs. I have a graphic on my website that lays that particular facet out. The rest of the story is that both regional economic development and regional labor market needs will be under the auspices of the federal Workforce Investment Board as set up by the Workforce Investment Act. On the whole, the polytechnical system of education right out of the USSR!