Inland Port Maybe?
As I was trying to write an overview of this foreign trade zone issue, as an appendix, I was defining the terms with references to government and association websites because there are so many arcane terms that are virtually unknown or little known outside the circles of interested parties. As I was doing that, I found a couple of terms that I wasn't familiar with myself. In researching them, I found something interesting that should be investigated further.
When Jane and I were researching foreign trade zones, Jane called Boise City and was connected to someone in the Mayor's office. She was asking about the foreign trade zone and what the plans were. What she was told was that it was still in the thinking and talking stages. That wasn't really true.
Here are the minutes to an October 27, 2005 Meeting of the Airport Commission
CBP Facility: design of a new 20,000 sq. ft. custom & border protection facility to be built beneath the future Concourse A. We are in the middle of the design for this project which began September 14.

B7. Report on Foreign Trade Zone Meeting: Airport staff met with Stephanie Hun Camarillo, Idaho Commerce & Labor; Rachel Rud-Scaraglino, US Customs and Border Protection; and Shirl Boyce, Boise Valley Economic Partnership to discuss a foreign trade zone at Boise Airport. According to Mr. Boyce, an FTZ should not be established until a user is identified. In and of themselves, FTZ's are not an economic benefit; it will require marketing. HE also emphasized that an FTZ will require excellent access. The railroad, interstate, and airport are easily accessible from the 3rd runway areas. Ms. Camarillo agrees the airport is a strategic location for an FTZ. Mr. Boyce expressed that BOI should not have to work on this alone. He will contact Marshall Miller, the FTZ consultant and arrange for a conference call with the CBP, Commerce and Labor, and airport staff. In late November those attending this initial meeting will get together and discuss the next steps in conducting further research. Staff will continue to update the Airport Commission and will seek advice and counsel once plans begin to develop.
The Mayor was one of the prime movers behind the initiative for a Constitutional Amendment to allow the Airport Commission to incur debt beyond what the current law allowed. The justification for this project was that they needed to be able to build facilities to lease to interested corporations (Chinese government) - such as Sinomach. The building of that warehouse was the prerequisite for foreign trade zone status although that was never revealed to the public (at least not that I'm aware).
http://boiseguardian.com/2010/07/16/team-dave-seeks-60k-to-deny-citizen-voting-rights
http://www.idahoreporter.com/2010/iff-says-boise-officials-backing-constitutional-amendment-on-airport-debt-misusing-resources
On June 2, Mayor Dave Bieter issued his "State of the City" report
http://www.cityofboise.org/Departments/Mayor/NewsReleases/2010/page55834.aspx
Excerpts:
In his 2010 State of the City Address delivered today, Mayor Bieter announced the City had entered into lease negotiations with Sunergy World to construct a $45 million, 10-megawatt solar electrical-generation facility on City-owned property west of the airport.

The state of the art project calls for locally built Transform Solar modules and Sun Storage ground mount arrays to be installed on the former city dump property. The power produced would be sold locally under a standard power purchase agreement. The project is expected to retain 20 local manufacturing jobs and create 20 construction jobs to build the facility. The proposal also calls for construction of state-of-the-art solar parking structures in the airport parking lot near Orchard Street. The project represents a major step forward in providing sustainable energy for our community.

Stressing the importance of investment on future economic prosperity, Mayor Bieter urged residents to support the ballot measure HJR5, which would give municipal airports the ability to issue bonds to finance capital improvements while ensuring those improvements can be paid for only by airport users, not taxpayers. The proposed constitutional amendment was approved earlier this year by both houses of the Idaho Legislature and will appear on the November ballot.

The Mayor also renewed his call for the Idaho Legislature to grant cities and counties the ability to exercise local option tax authority, citing recent votes in Arizona and Kansas to fund support for education and research and development. Mayor Bieter noted that a locally approved half-cent sales tax could generate approximately $7 million for research and development and $22 million for improved transit such as an expanded bus system and commuter rail between Ada and Canyon counties. Idaho is one of only three states in the nation – along with Mississippi and Alaska – that has no state-dedicated or local-option funding for transit.

Something curious that I found was that Boise is a port city. There is a river that runs through town but it's not wide or deep enough for anything much bigger than a row boat. So I found the definition of a port.

Port of Entry
http://www.cbp.gov/xp/cgov/trade/trade_outreach/ports.xml
A "Port of Entry" is an officially designated location (seaports, airports, and or land border locations) where CBP officers or employees are assigned to accept entries of merchandise, clear passengers, collect duties, and enforce the various provisions of CBP and related laws

Facilities provided without cost to the Federal Government, must include:

· Wharfage and anchorage adequate for oceangoing cargo/passenger vessels (if a water port).

· Cargo and passenger facilities.

· Warehousing space for the secure storage of imported cargo pending final CBP inspection and release.

· The commitment of optimal use of electronic data input equipment and software to permit integration with any CBP system for electronic processing of commercial entries.

· Administrative office space, cargo inspection areas, primary and secondary inspection rooms, and storage areas, storage areas and any other space necessary for regular CBP operations.
I also found a list of all the ports of entry and the classifications
http://www.cbp.gov/xp/cgov/toolbox/contacts/ports/
And then a list of ports. It turns out that in addition to ports, there are districts.
Since I didn't know what a port district was, I searched on that found the Santa Cruz Port District. Excerpts below:
http://www.santacruzharbor.org/historyOfTheHarbor.html
Some ports have incorporated into their own political subdivisions authorized under state law in conjunction with federal laws governing the original designation of "port". The following information was obtained from the Santa Cruz Harbor website.

"The controller of the State of California defines a district as "a legally constituted governmental entity, which is neither a city nor a county, established for the specific purpose of carrying out specific activities within... defined boundaries." Districts also exercise many of the same powers of other units of governments: including the right to "have succession, to sue and be sued, to acquire real or personal property, to exercise the right of eminent domain, and to tax," among other things.

More than anything else, the Port is a financial being. It has the "powers of purse" which enable it to function in this free market system. The Port District is, of course, a tax district. This comprises a 37 sq. mile area which includes the City of Santa Cruz and the areas of Live Oak, Soquel and the unincorporated parts of Capitola. The tax, which was originally $.10 (per $100 value), was a very important part of the harbor financial picture. Fortunately, the Port also has the power to acquire land, lease concessions, develop rents and enterprises which all result in operating income."
Going back to Mayor Bieter's State of the City, the local option tax that he was talking about is for transportation projects. $45 million for this....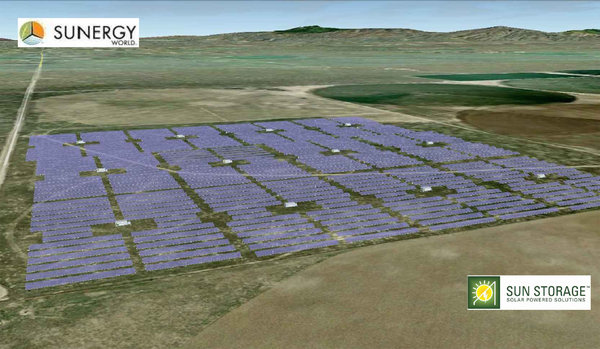 Seems a bit excessive. Note that there seems to have been a location change - but regardless, it's still the same company and the same project.
http://www.idahostatesman.com/2011/01/20/1495038/planned-boise-solar-plant-moves.html
To me it just looks like a bunch of plasticrap spread out over a field.
Following my stream of consciousness on the ports and port districts, it could be that what they really are planning on putting in - that would be a $45 million dollar facility would be an inland port with a fusion center like the Kansas City Smartport.
"An Inland Port is a physical site located away from traditional land, air and coastal borders with the vision to facilitate and process international trade through strategic investment in multi-modal transportation assets and by promoting value-added services as goods move through the supply chain."
Center for Transportation Research, University of Texas