Traffic management systems are about nothing if not surveillance and control - by definition. In a busy urban area, that surveillance of freeway conditions is appreciated by commuters - to keep traffic moving. And when there is an accident, swift action by First Responders is also appreciated. However, in the United States, we expect the surveillance to stop when we exit the roads. But with declining defense budgets and when satellite technology was made available to the private sector with the ISTEA license to 'blue sky' redesign life in America by techno-lusting systems designers formerly engaged in the defense industries, the United States land mass became the battlefield and citizens became the enemies to monitor, track and collect data on.

In a report to Congress titled, "Non-Technical Constraints and Barriers to Implementation of Intelligent Vehicle-Highway Systems", it said the following regarding use of Defense Contractors for the IVHS industry:
It is estimated that IVHS-related employment will rise from 21,000 in 1996 to 219,000 in 20 11. By 20 11, employment in the IVHS sector will account for a substantial share of the work force for certain highly skilled occupations. There should, however, be no major difficulty in meeting that demand. The Nation's declining defense sector could be an important source of scientific, professional, and technical expertise for the IVHS industry. However, IVHS products and services will be deployed, operated, and maintained under conditions that are quite different from traditional defense sector practices, such as building relatively few high-technology products for a single client.1
That last statement was a promise they couldn't - and it is the feeling of this writer, that they never intended to fulfill.

Defense Technology Conversion - Report to Congress
2


"The United States is the world leader in many technologies applicable to IVHS, and numerous efforts are currently underway to assess the feasibility of converting existing aerospace and defense technologies to IVHS. For example, DOT and the Department of Energy (DOE) entered into a Memorandum of Understanding on August 6, 1993, that will promote the use of the defense technology expertise of DOE's national laboratories in DOT's IVHS program.
Discussions have also taken place between DOT and various elements of the Department of Defense (DOD) and the Advanced Research Projects Agency (ARPA) to convert applicable defense technologies to IVHS. Potentially applicable technologies include: high-definition imaging and displays, advanced sensors (e.g., infrared, microwave, acoustic), radar/lidar technologies, simulation modeling, telecommunications, advanced software (e.g., systems control, image processing, and data infusion), artificial intelligence technologies, and vehicle robotics and location systems.
The GPS system. with its network of satellites, IS already a component of many IVHS systems. DOT has been identified to work closely with DOD to facilitate the proper implementation of GPS for civilian use, and to ensure the long-term availability of GPS as a U.S. national asset that would be available to civilian users worldwide.
The defense industry already recognizes the potential of the IVHS program, and some 50 defense organizations are members of IVHS AMERICA, including ARPA, the U.S. Tank and Automotive Command (TACOM), Martin Marietta, and Hughes Aircraft, In addition, over 20 defense community contractors are participating in the AI-IS Precursor Systems Analyses studies and ten defense contractors are involved in the development of the national IVHS system architecture. Continued utilization of the resources represented by the defense and aerospace industry will be instrumental in advancing the national IVHS program and bringing IVHS systems to deployment."
Spy Satellites for Civilian Use 4 (bottom of pg 5 - end)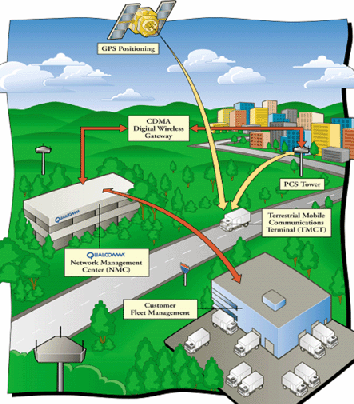 xxx

Commercial Remote Sensing and National Security3
Dennis Jones
In February 2002, Colombian President Andres Pastrana appeared on his nation's television and declared an end to peace negotiations with the Revolutionary Armed Forces of Colombia, an insurgent group that the government had been fighting for decades. In supporting his decision, Pastrana held up satellite photographs of clandestine road networks developed in the demilitarized zone in the south of Colombia—a violation, he argued, of the two-year-old peace process. The photos he held up for his nation and the world to witness were not declassified images from a Colombian military satellite, nor were they from any U.S. defense system. They were purchased from a U.S. commercial satellite company.
Pastrana's display of commercial satellite imagery received little notice in the media, which was naturally more concerned with his policy announcements. It was, however, one of the most dramatic manifestations of a policy signed by President Clinton in 1994, Presidential Decision Directive-23, U.S. Policy on Foreign Access to U.S. Remote Sensing Capabilities. Aerospace had a role in implementing that policy and later helped shape the directive that would succeed it.
A Landmark Directive
Presidential Decision Directive-23 (or PDD-23, as it is commonly known) had its roots in the Land Remote Sensing Policy Act of 1992, which established the terms for civil and commercial remote sensing in the U.S. Government. The act designated the National Oceanic and Atmospheric Administration (NOAA) as the chief regulatory agency for the commercial remote-sensing industry and outlined the general terms and conditions required to obtain a license to operate a remote-sensing satellite in the United States. These included, for example, the submission of on-orbit technical characteristics of the proposed system for NOAA review. The act also stipulated that a licensee "operate the system in such a manner as to preserve the national security of the United States and to observe the international obligations of the United States." These conditions required the government to investigate the ambiguous nexus between technology development and national security and decide on the best course of action. Accordingly, Aerospace began conducting research and analysis to assist the investigation and decision-making process.
* * * * *
Presidential Decision Directive-23: Land Remote Sensing Policy Act of 19925
xxxxxxxxxxxxxxxxxxxxxxxxxxxxxxxxxxxxxxxxxxxxxxxxxxxxxxxxxxxx

Booz Allen Hamilton
North American International Trade Corridor (NAITC)
Development Plan - Phase 37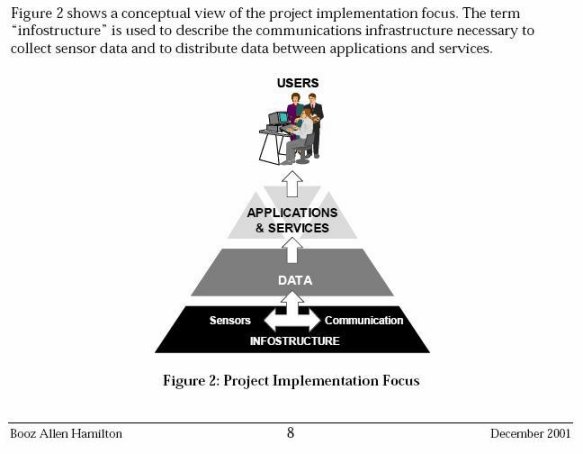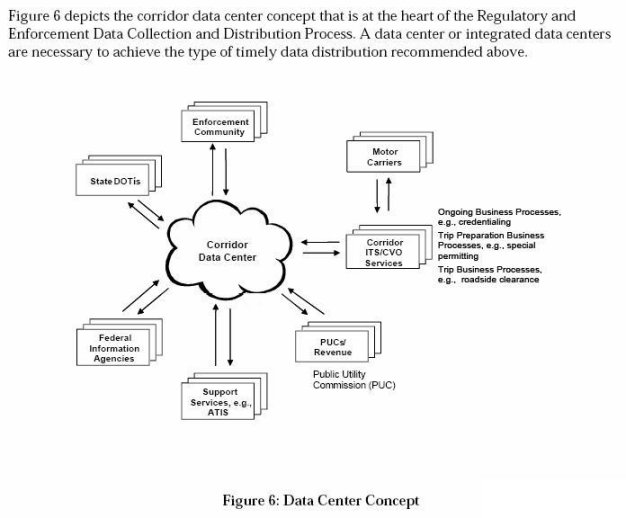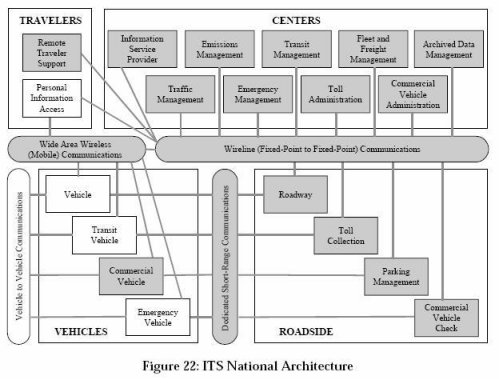 In the above picture, focus on "Personal Information Access" because that's where "Total Information Awareness" comes in. Defense contractors design systems to foil the enemy, the collection of every scrap of data about "the enemy" makes sense in the defense arena but not for a civilian population of non-combatants engaged in the ordinary business of living.
The graphic below is from a publication titled, "NAFTA Superhighway Memory Hole"8 which traces the history of the usage of the name "NAFTA Superhighway". The report was produced to stop the disinformation campaign that attempted to deny the existence of the "NAFTA Superhighway" on the basis of semantics. In researching the history, the link was made between the 'Intelligent Vehicle Highway System (IVHS)' as Total Domain Awareness as a component of 'Total Information Awareness'. Upon reflection, it should have been reversed. Total Information Awareness is a component of Total Domain Awareness but that's an arcane distinction without a real difference.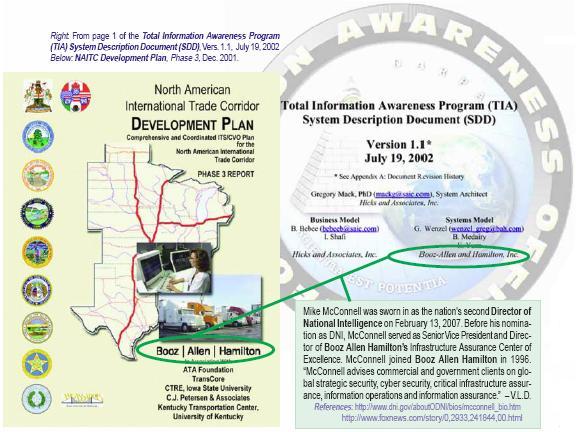 Continued - Defense Industry Conversion
______________

1) Department of Transportation, Report to Congress, "Nontechnical Constraints and Barriers to Implementation of Intelligent Vehicle-Highway Systems, June 1994, Page viii (11) http://www.its.dot.gov/JPODOCS/REPTS_TE/61X01!.PDF
2) Intelligent Vehicle Highway Systems Program Plan (IVHS), Report to Congress, June 1994, page 24 (29)
http://www.itsdocs.fhwa.dot.gov/JPODOCS/REPTS_PR/740.pdf
3) The Aerospace Corporation article, "Commercial Remote Sensing and National Security", Dennis Jones, Summer 2004, http://www.aero.org/publications/crosslink/summer2004/09.html
4) Federal Motor Carrier Safety Administration, Technologies, http://www.fmcsa.dot.gov/facts-research/research-technology/report/untethered-dec05/section2.htm?printer=true
5) Federation of American Scientists, Office of the White House Press Secretary, Fact Sheet - Foreign Access To Remote Sensing Space Capabilities, Release Date: March 10, 1994. http://www.fas.org/irp/offdocs/pdd23-2.htm
6) GPRS World Tracker, "Track anyone, anywhere, anytime", http://www.trackingtheworld.com/
7) Booze Allen Hamilton, North American International Trade Corridor, Development Plan, Phase 3, December 2001, Page 8 (pdf p.16), Page 66 (pdf p.74) Page 116 (pdf p.124)
http://www.channelingreality.com/Documents/NAITC_ITS-CVO_PlanPhase-3-Final.pdf
8) NAFTA Superhighway Memory Hole, D. Niwa, September 12, 2007, Page 6 http://www.channelingreality.com/Documents/NAFTA_Superhighway_07.pdf