When you click on the link for the Boise Valley Economic Partnership, this is what you see: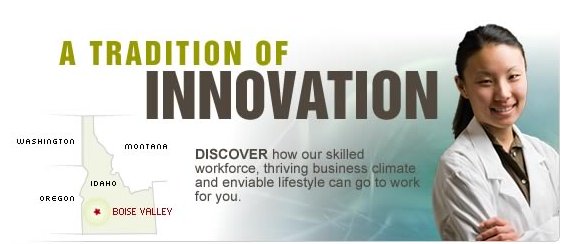 Hmmm... a Chinese lady, in a white coat like doctors and nurses wear, and a message about "our" skilled workforce.

I repeat... What is the purpose of the warehouse? On airport property, with flights coming from China?

Do you remember what Jack Abramoff was doing in the Marianas Islands?

The Abramoff-DeLay-Mariana Islands Connection

Abramoff ties cloud Schaffer's fact-finding trip

What the Trojan Triangles are - are the domestic version of what happened in the Marianas Islands. So what do you think the warehouse is for? I think it's a holding facility for the imported Chinese (and other) workers and I think they are being "trickled in" to our communities. And I know for a fact that students and immigrants are being used for free (slave) labor (but not for the customer) because of a personal experience. And... everybody in the town of Twin Falls, Idaho knows that foreign students are being imported to the College of Southern Idaho. Africans, Chinese, Russians, Middle Easterners, Mexicans. On and on.

================= And if you want anymore.... let me know I'll be happy to find it for you =======

Support for the above March 3, 2011 ... plus for the record, I can get enough documentation to bury a 7 foot man on the issue of H-1B's being imported to take American jobs from American workers.

U.S. Establishes Annotated B-1 Visa for Foreign Maritime Workers
http://www.america.gov/st/texttrans-english/2011/February/20110209170921su0.9626995.html

NJIT student project provides invaluable experience: Helps firms save money
http://psychcentral.com/news/archives/2004-12/njio-nsp121004.html




Expanding People-to-People Exchanges
http://www.america.gov/st/texttrans-english/2011/January/20110119172633su0.7791799.html
40. The United States and China have long supported deeper and broader people-to-people ties as part of a larger effort to build a cooperative partnership based on mutual respect and mutual benefit. Both sides agreed to take concrete steps to enhance these people-to-people exchanges. Both sides noted with satisfaction the successful Expo 2010 Shanghai, and the Chinese side complimented the United States on its USA Pavilion. The two sides announced the launch of a U.S.-China Governors Forum and decided to further support exchanges and cooperation at local levels in a variety of fields, including support for the expansion of the sister province and city relationships. The United States and China also agreed to take concrete steps to strengthen dialogue and exchanges between their young people, particularly through the 100,000 Strong Initiative. The United States warmly welcomes more Chinese students in American educational institutions, and will continue to facilitate visa issuance for them. The two sides agreed to discuss ways of expanding cultural interaction, including exploring a U.S.-China cultural year event and other activities. The two sides underscored their commitment to further promoting and facilitating increased tourism. The United States and China agreed that all these activities help deepen understanding, trust, and cooperation.

Boise Airport Commission, 2005 Meeting Minutes -
http://www.cityofboise.org/Departments/Airport/PDF/AirportCommission/October272005Minutes.pdf

CBP Facility: design of a new 20,000 sq. ft. custom & border protection facility to be built beneath the future Concourse A. We are in the middle of the design for this project which began September 14.
Why underground? And why did Boise City officials say that were just considering applying for FTZ status - when clearly they've been planning it since 2005.
B7. Report on Foreign Trade Zone Meeting: Airport staff met with Stephanie Hun Camarillo, Idaho Commerce & Labor; Rachel Rud-Scaraglino, US Customs and Border Protection; and Shirl Boyce, Boise Valley Economic Partnership to discuss a foreign trade zone at Boise Airport. According to Mr. Boyce, an FTZ should not be established until a user is identified. In and of themselves, FTZ's are not an economic benefit; it will require marketing. HE also emphasized that an FTZ will require excellent access. The railroad, interstate, and airport are easily accessible from the 3rd runway areas. Ms. Camarillo agrees the airport is a strategic location for an FTZ. Mr. Boyce expressed that BOI should not have to work on this alone. He will contact Marshall Miller, the FTZ consultant and arrange for a conference call with the CBP, Commerce and Labor, and airport staff. In late November those attending this initial meeting will get together and discuss the next steps in conducting further research. Staff will continue to update the Airport Commission and will seek advice and counsel once plans begin to develop.
==========================================================
So Boise, now you know why the money they've spent hasn't created any jobs and it will never create any jobs except for the universities and community colleges. They are producing workers - not jobs. And you should be able to figure out the secret to the success of the "immigrant entrepreneur". And when you think about Jack Abramoff and Tom Delay, you can probably guess why all the politicians are promoting this scam. It's the biggest con game and sell-out of a people in the history of the world.
Vicky Davis
January 7, 2011
Related Research: The Trojan Triangle
The CORE - Trojan Triangle
Manhattan Project for the 21st Century
The Yoke of Control
UN Agenda 21 in Idaho
Kelo - The Rest of the Story
Idaho's Intermodal Commerce Zones News story - Kempthorne