Immigration as a Racket
I went to a barbeque this weekend and the subject of the CSI Refugee program came up. CSI is the College of Southern Idaho Idaho. Apparently there is a corporation in Buhl, Idaho that is "hiring" the refugees that are run through CSI. One of men said his son would like to have a job there but he can't get one. He also said that he knows a guy who works there - and it's very difficult because none of the workers speak English.
I'd be willing to bet that the people they are importing are virtually slave labor - same kind of deal as Hershey Company. Why would I say that? Because of a personal experience I had with a local Heating and Cooling company. I had a problem with my heat pump so I called a company here in town. They sent me two CSI students who were doing their "internship". They were not accompanied by a licensed contractor - trainer.
UNITED STATES COMMITTEE FOR REFUGEES AND IMMIGRANTS
United States Department of State Grant
College of Southern Idaho Refugee Center
Resettlement

Refugees destined for Twin Falls, Idaho arrive by plane and are met at the airport by our refugee resettlement coordinator. On hand for the arrival is a translator speaking the language of the arriving individuals. Usually only one family or nationality arrive on a flight from Salt Lake City, due to the small size of the aircraft.

From the airport, the families are taken to an apartment that has been rented and furnished according to the guidelines issued by the U.S. State Department. A furnishings list can be found at this site under "Donations". The apartment is furnished with both required and additional items to reduce the stress of the arriving family. Culturally appropriate food for three days is stocked in the refrigerator and cabinets.

Shortly after arriving at the apartment, an orientation is held with an interpreter present that covers the safety features of the apartment, operational instructions for heat and cooking, and emergency phone numbers and names. If the arriving family is in need of clothing or shoes, they are brought to the Refugee Center to pick up items before being taken to their apartment.

The next day, the family is picked up by the Resettlement Coordinator and brought to the office where an interpreter is waiting. The family is allowed to make a short call back where they have come from to let friends or family know that they have arrived safely in Twin Falls. They are then given their first pocket money check and taken to the bank to cash the check, before being taken back home.
Usually two days after arrival, the family is brought back into the Refugee Center to undergo an Orientation which covers : information on Refugee Program staff and their functions, American money, lists of stores and their locations, a review of furnishings that have been placed in their apartment, review of their apartment lease and how rent payments are made, information on English classes and when the van will be picking them up for classes, given a calendar with upcoming appointments marked, a review of their IOM loans, a Twin Falls city map, and samples of utility bills they will be receiving. They are then provided with an expanding green envelope to put this information into for future use. Information is gathered on any special needs that may exist and personal information is gathered for use on their Social Security application.

After the orientation, the family is offered a trip around town to do follow-up food shopping at WinCo and the Dollar Stores. The driver points out close supermarkets, where they can pay their utility bills, and where the closest bank is located. Then they are taken home, where a reminder is given about pick up time for their next appointment or ELT classes.
And here you go.... "Refugee Loans" and how do you suppose these "refugees" pay back the loans? Slave labor - with you the taxpayer picking up most of the costs and no doubt huge profits for the slave importers and resettlers.

Refugee Loan Program Information
The International Organization for Migration (IOM) provides refugees with a travel loan for the transportation cost to the U.S. The travel loan is an interest-free loan made to refugees to pay for the cost of travel to the United States. Refugees are required to sign a promissory note to repay it before traveling to the U.S.

Repaying travel loan through regular payments within the time schedule agreed upon with IOM.
Starting to make payment as soon as receiving the first IOM bill.
Informing resettlement agency about your changes of address.
Informing resettlement agency in writing to request for extension or modification on the established payment schedule and terms if facing financial hardship.
Failing to comply with the established payment schedule and terms will result in legal action to collect the amount past due and payable.
Responsible for collection costs, attorney's fees, and interests charged if collection action is taken.

You are strongly encouraged to repay your IOM loan as soon as you can to make IOM travel possible for other refugees.

If you are an IRC client and would like to contact the IRC about your IOM loan, please contact:

IRC - Loan Dept
122 E 42nd St
New York, NY 10168
This is a link to their FACTSHEET page.
The name of the company in Buhl Idaho that is employing the slave labor imports is Rangen Transportation, Inc. Notice that their accounting firm is KPMG. You have to click on the word - not the picture. You'll notice that they do "research". This is another part of the scam. As long as they use the word research and they tie it to technology, they can get grant money from the National Science Foundation and probably other agencies of government that office technology grants.
IOM - International Organization for Migration
The U.S. State Department is running this program making grants available to community colleges and resettlement centers:
IOM - Webpage on the United States
This program is what you are paying taxes for:
U.S. Department of Health and Human Services - Children and Families
U.S. Department of Health and Human Services - Funding and Grants - Office of Resettlement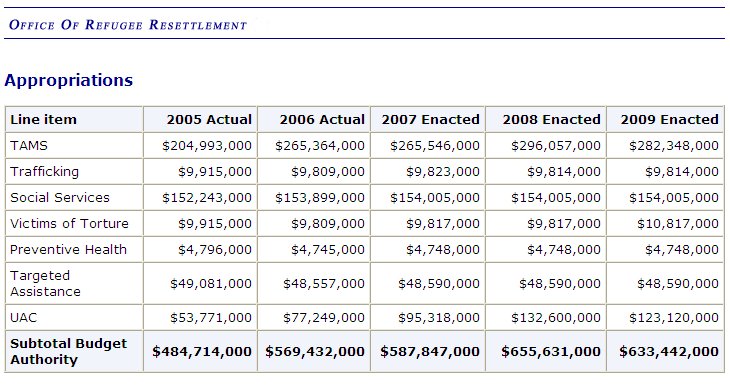 (TAMS - Transitional and Medical Services)
2004 Federal Register - information on the Refugee Resettlement Program

According to the Center for Immigration Studies, the Refugee Resettlement Program was "Under Review" in 2010.
U.S. Committee for Refugees and Immigrants
And you wonder why Americans can't get jobs? The State Department has made a business out of importing people - putting Americans out of work. If you think about this, what does that do? It empowers the State Department and it cannibalizes our national government - bankrupting it as Americans are cast aside - replaced by foreigners.
Every young American who can't find a job should file a lawsuit - against everybody. This is criminal racketeering, treason and I don't even have words to express the degree of betrayal this is for America's young people.
When you talk to your state representatives and members of Congress... DO NOT use the word welfare. This is not a welfare program. DO NOT call it foreign aid. This is not a foreign aid program. Call it what it is.... the REFUGEE RESETTLEMENT PROGRAM.
This refugee resettlement program is a component of the Trojan Triangle system: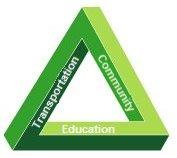 And, I'd be willing to bet that "The CORE" in Meridian will be "businesses" for resettlement refugees connected with Idaho State University and Boise University. And Hoku, the Communist Chinese company in Pocatello, will be just like Rangen. They will employee the Communist Chinese "refugees and students". Why do I say that?
On the Refugee Info website above, at the bottom of the FACTSHEET page was this paragraph:
This site was created by the International Rescue Committee (San Diego). Refugee Info is a website dedicated to the resettlement needs of refugees and asylees in San Diego, California. The site was funded by the Community Technology Foundation of California (CTFC). The Community Technology Foundation of California helps underserved communities secure social justice, access, and equity through the application of information and communication technologies. To find out more about the Community Technology Foundation visit: http://www.zerodivide.org.
"ZERO Divide" - As in "Bridging the Digital Divide"
When the Clinton Administration committed the treasonous act of integrating American government and institutional systems to create a global network for "global governance", one of the initiatives was "Bridging the Digital Divide" - meaning to educate the people in the third world countries in the use of technology so that they could participate in the "Information Revolution" of the Internet. The problem with that - obviously, people in the third world don't even have running water - let alone an infrastructure for a telecommunications system and computers. Solution? Import the third world to the developed world. Educate them here through our community colleges and universities.
The ruse that was set up is the "work-based learning zones" connected to the universities and community colleges. Federal funding for "research" specifically for technology is yet another funding stream for the importation and resident training for people from the third world. You're not only paying for it with your tax dollars today, your children will be paying for it in the future as the real programs for real research take a back seat to the global business objectives of the technology and banking industries - and I include banking because they are the ones who initiated the Uruguay Round that ultimately included "Trade In Services" which is nothing more than modern day slave trade as evidenced by the system I've described above and in many of the things I've written.
Clinton - Bridging the Digital Divide
Clinton - Digital Opportunity Task Force (Note: KPMG picked up where Anderson left off. Anderson changed their name to Accenture after the Enron scandal.)
Communiqué from the Okinawa Summit (G8 Summit)
Okinawa Charter on Global Information society - July 2000
This fraud and treason is so large it's almost incomprehensible but I would suggest strongly that you make a concerted effort to understand it. Your children's future and our country depend on it.
Vicky Davis
September 12, 2011
Related: Digital Fascism of the Dons of Davos
What is Digital Fascism?
Territory of Babel